Most effective and satisfying clinic in Lincolnshire – Beauty Laser Clinic. You can find our address just down the road in the Lincoln city centre. We provide a range of treatments such as facial and whole-body in a quick course of time. The salon is local and offers medical and professional skincare with its advanced, high-quality products that will ensure to please needs of the clients.
Why choose Beauty Laser Clinic?
We offer laser hair removal treatments for both men and women
Our clinic provides a laser treatment that is suitable for both men and women and in a number of minutes can achieve effective results and a satisfying experience. 
There is a full range of services available in the Beauty Laser Clinic
We offer treatments suitable for different skin types and body areas such as facial, back, legs, bikini, armpits, moustache. This treatment is safe for most parts of the body including the face and is highly recommended by therapists. A free consultation is available from our clinic.
The Beauty Laser Clinic is safe and has experienced care
The therapist is professional and trained and will ensure to provide medical treatment that will help to give you the best results!
The Beauty Laser Clinic uses leading IPL-RF Laser
The clinic is going to be using the IPL-RF type of laser which is the best on the market and has been recommended by many therapists.
Main advantages of laser hair removal that our clinic can offer
This treatment has been the most popular method in recent years with very satisfying and effective results. The most known advantages are:
Long term effects, lighter skin and removal of unwanted hair. 
Quick process to achieve permanent results; only one series of treatments (about five visits) is needed to achieve removal of almost all hair on a selected part of the body.
Satisfying even for people with sensitive skin.
Helps you to avoid and permanently get rid of dryness, irritation and redness that result from aftershave.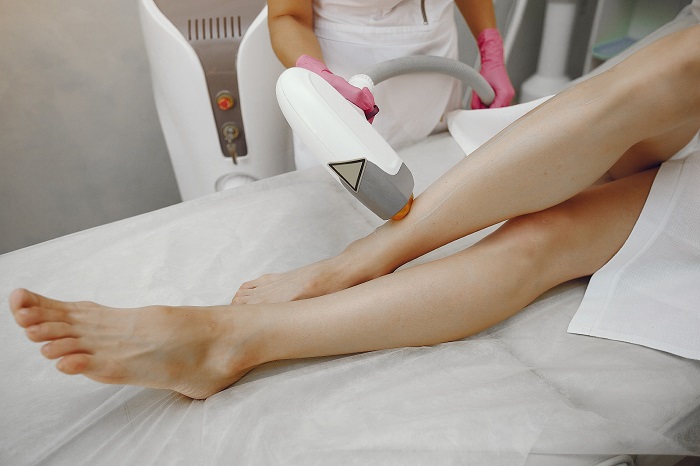 Which area of the body to choose when considering laser hair removal?
There is a number of places that are safe to treat such as face and other body parts. However, we recommend a consultation with a doctor that will provide advice and ideal parameters of the laser hair removal device. Our Lincoln laser clinic provides a free and highly helpful consultation before the treatment, so don't hesitate to contact us! 
In treatments of larger areas of the body such as legs or arms, only some areas can be selected like thighs or calves. This is done to make sure that the IPL laser does not miss any group of hair. A free consultation is available if needed.
Review of the laser hair removal process:
Laser hair removal is one of the best treatment in dermatology. Leading to the treatment, Beauty Laser Clinic first recommends taking a patch test in order to gain information about your skin. The patch test can help to make sure you receive the most suitable care and is carried out on small areas of the skin. The course of this treatment mainly depends on the selected body area.
This treatment offers a medical procedure which uses a number of selected content to satisfy the clients and their skin. Our clinic uses an IPL-RF of a laser type that is based on concentrating full beams of light in order to select and get rid of unwanted hair.
Following the process, a laser emits light that will be absorbed by the pigment in the hair. The energy of the light stimulates full heat level which then creates damage to the tube-shaped sacs. These are within the skin which produces hair and through this, the damage is created that stops or delays hair growing back. 
The therapist is going to press a laser device and hold it against your skin. A cooling device or a cool gel might be used as a protection for the skin depending on the type of a laser. 
When the laser is activated it stimulates a beam of light which will go through your skin into the hair follicles. These are then damaged due to the strong heat from the laser and unwanted future hair growth is inhibited. There could be slight discomfort during the process like a warm pinprick but the cooling device or gel should soothe it with a cold sensation. 
Small areas can be treated in minutes; however, larger areas such as legs may take more than one hour. 
What is after the laser hair removal process? 
At first, some redness and swelling may appear after the treatments but it is most likely to disappear in a short course of time. In order to treat any discomfort, Beauty Laser clinic advises applying ice into the treated areas to soothe any pain. If there is a skin reaction straight after the treatment, our clinic will make sure to review it and may recommend to use a steroid cream for that area.
Following the appointment, Beauty Laser clinic recommends to avoid sunlight and not use a tanning bed for at least six weeks after or in between laser hair removal treatments. A broad-spectrum SPF30 sunscreen needs to be used. 
If unsure about your first treatment, contact the clinic as we can offer a free and highly helpful consultation.
What are the risks of laser hair removal treatment?
Damage to the skin
The risk of damage to the skin is unlikely for all types of skin; however, it can be less effective for light hair colours such as grey or blonde due to them not absorbing the light as well. Beauty Laser clinic offers high safety for your facial and whole-body skin.
Side effects of the treatment
There aren't many side effects from the laser hair removal treatment and they depend on skin types, hair colour and the pre and post-treatment skincare.
Pigment changes – the treatment could darken or lighten an area of the skin that has been treated due to the use of IPL light. Still, these effects are most likely temporary and it mainly affects people that don't avoid sun exposure pre-treatment and post-treatment as well as people which have a dark skin colour. 
Skin irritation – this hair removal treatment could cause short-term discomforts such as redness and swelling. 
There are some rare side effects of laser hair removal treatment to be aware including blistering, crusting, scarring, lightening of treated hairs and excessive hair growth next to treated areas. 
The treatments at Beauty Laser clinic are medical and experienced so most signs and symptoms disappear after a few hours.
What are the results of the laser hair removal treatment?
Beauty Laser Clinic will please you with the results. However, do not expect your hair to fall out in a short time as this process will happen over a period of days to a few weeks. It is recommended to repeat the treatment for weeks in order to achieve the full results. 
The results do not turn out the same way for everyone. For most people, the effects can last a long time and even years but most likely not permanently. However, when the hair starts growing again it is normally lighter and finer. 
Most effective results of this treatment can be seen for people with thick and dark hair however, pleasing results are ensured for most types of hairs.
Find and contact the Beauty Laser Clinic in Lincoln, Lincolnshire
This Lincoln laser hair removal treatment is easily accessible due to the clinic being located just down the road in the Lincoln city centre.
Call our clinic and book your appointment now! The clinic can also offer some additional information and a more detailed review of the laser treatments is also available. Get registered and visit us on the address: 50a High St, Lincoln LN5 8AN